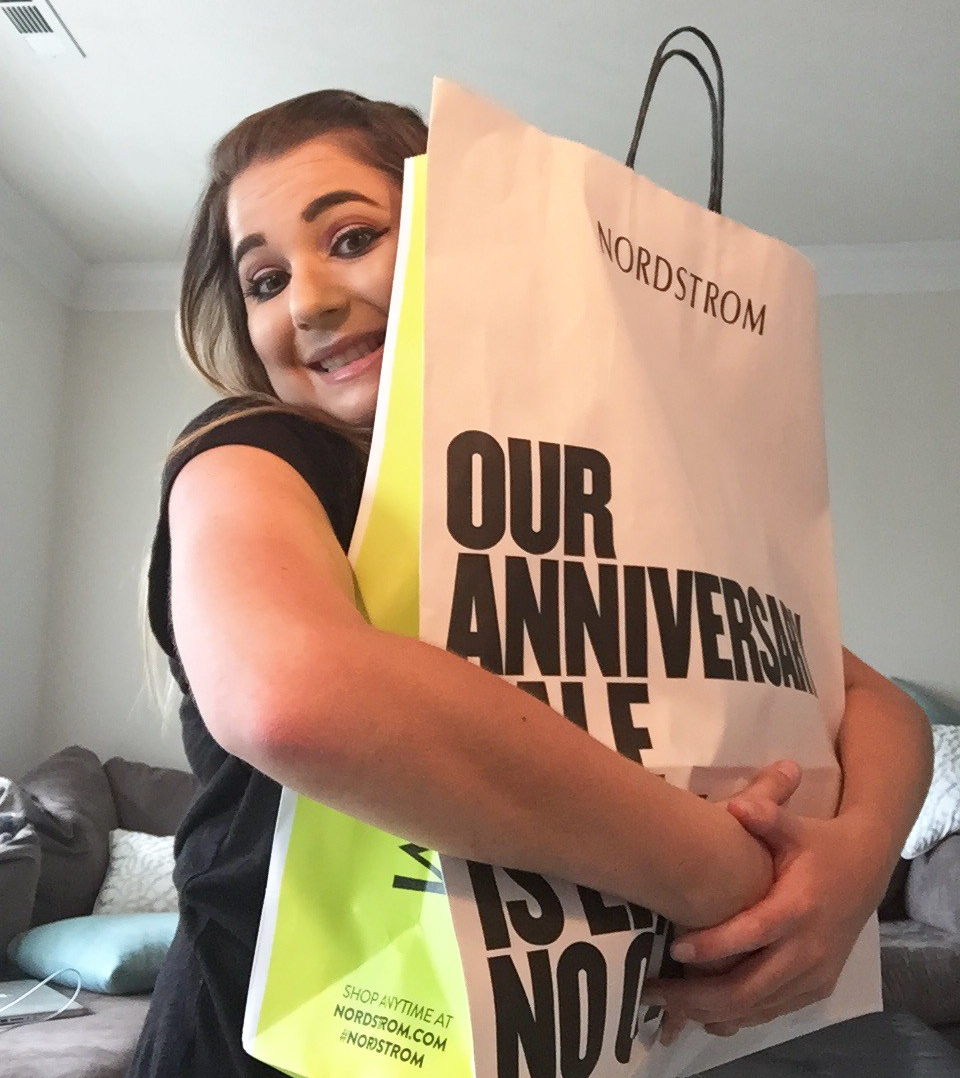 Can you tell I'm excited for the Nordstrom Anniversary Sale??? I've already placed a hefty order online, but decided I couldn't wait for the clothes to arrive and took a trip  to my local Nordstrom store to shop the sale in person. I typically prefer ordering online because I think the selection is  much bigger, but like I said, I just couldn't wait any longer. I wanted to share with you my likes and dislikes. First up, I'm going to start with what I liked.
This post contains affiliate links. For more information, please read my disclosure.

THE SOFTEST SWEATER ON THE PLANET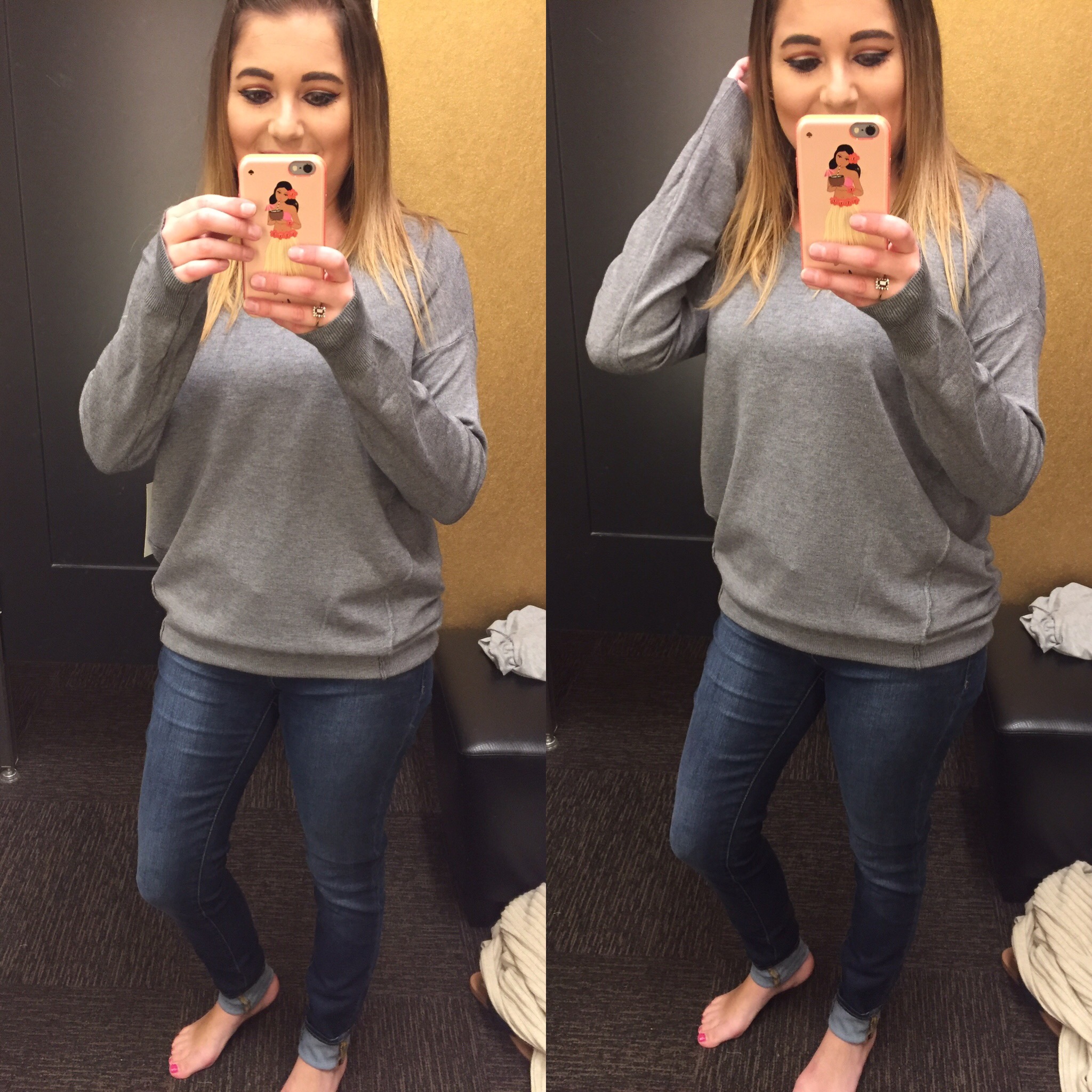 Dreamers Tunic Sweater – This by far is the softest thing I have ever put on my body. WARNING: People will ask to feel you while wearing this sweater. The best part is, it's less than $30!

SWEATERS AND TEES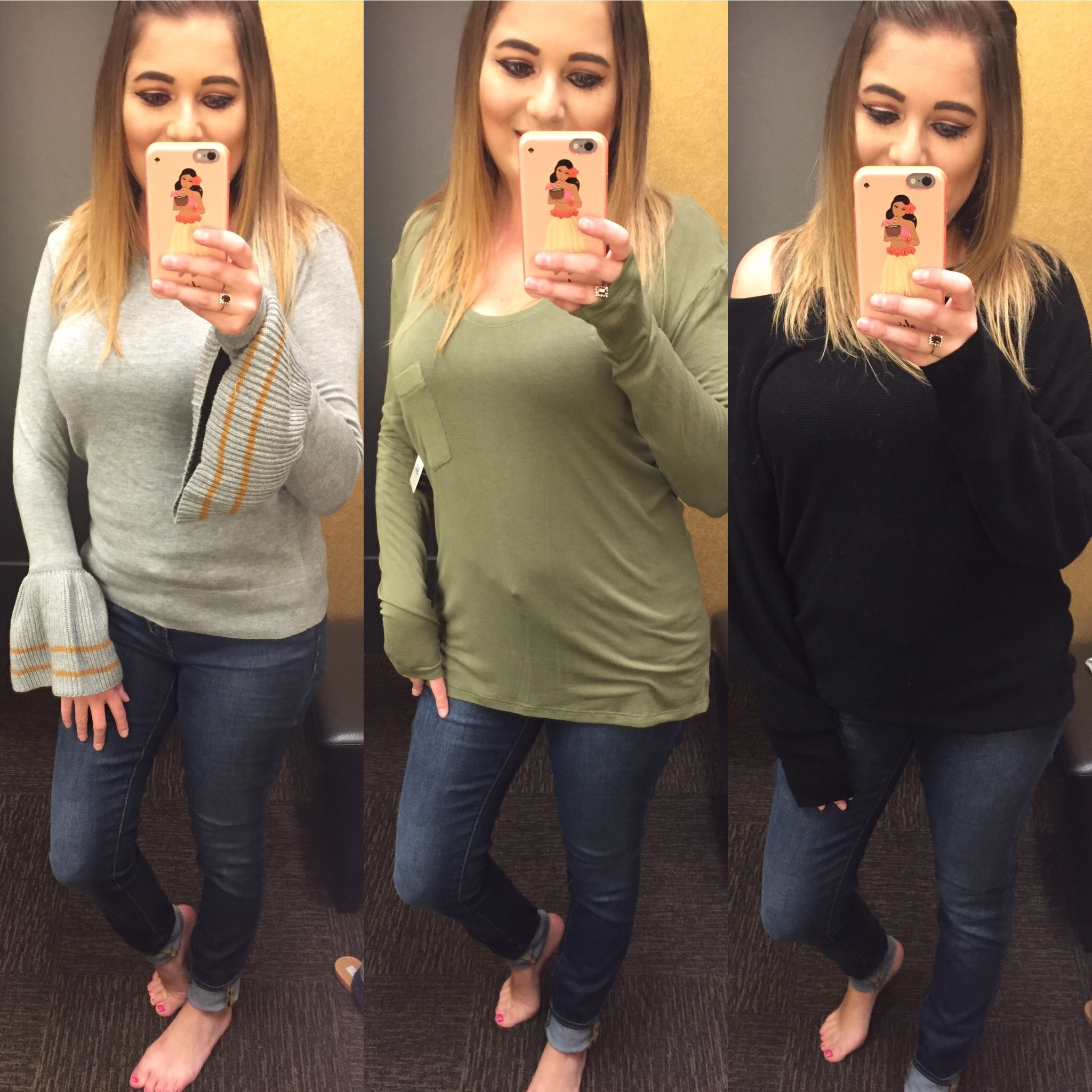 Jeans: Not on the website yet but similar here –> Vigoss – Less than $42.
Left: BP Ruffle Bell Cuff Sweater – True to size and sooo cute! I love the bell sleeve detail. Wearing in XS. Less than $32!
Middle: BP Pocket Tee – True to size. Wearing in XS. Less than $19!
Right: BP Boatneck Pullover – True to size. Wearing in XS. Can be worn off the shoulder and regular. I absolutely adored this sweater. Less than $25!

OLIVE MOTO JEANS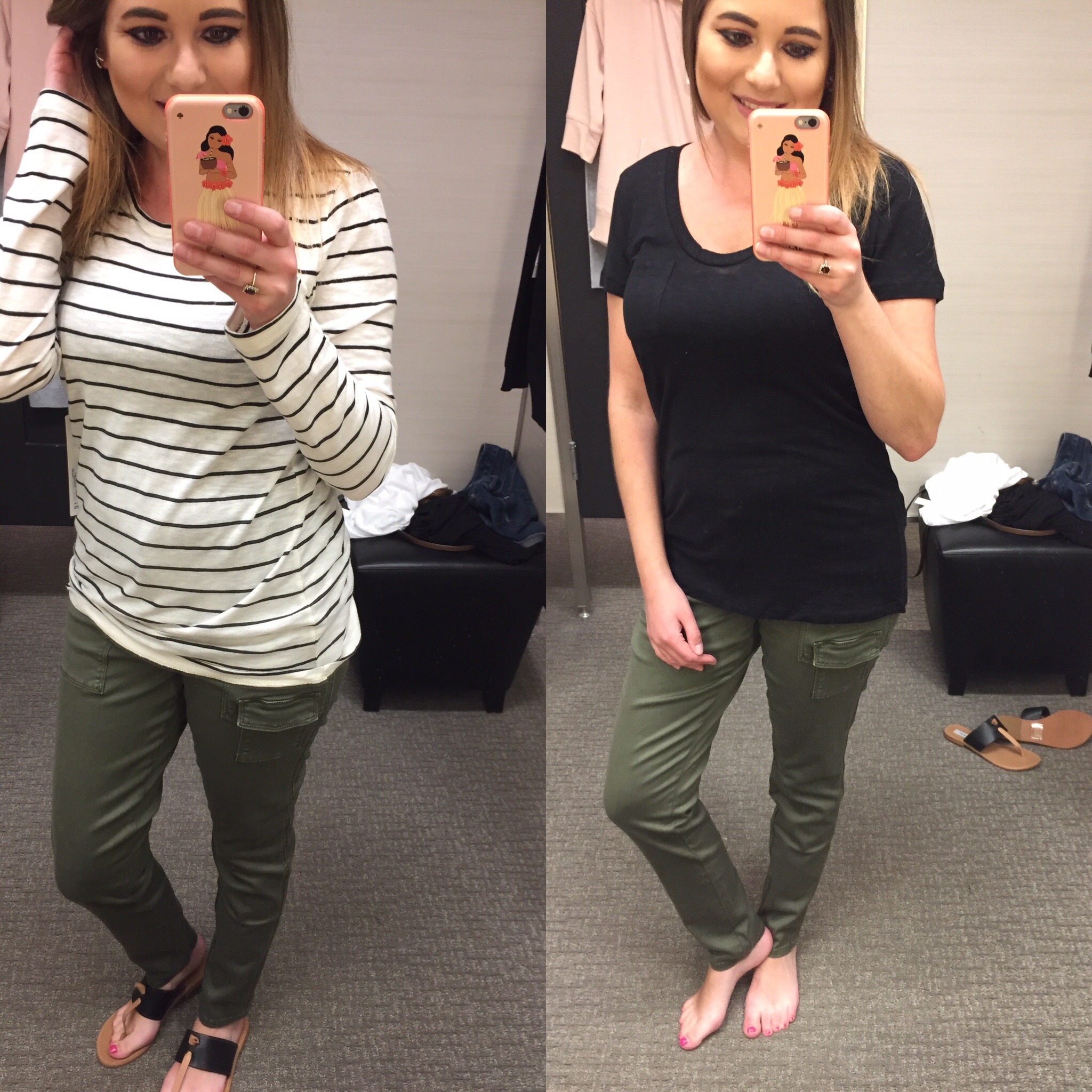 Caslon Utility Pants – Less than $50 and true to size. Wearing here in size 26.
Left: Caslon Striped Tee – Pretty tts. I'm wearing here in small but think an xs would fit better. Less than $20!
Right: Caslon V-Neck Tee – Runs large. Wearing here in xx small. Less than $18!

SCALLOPS AND JEANS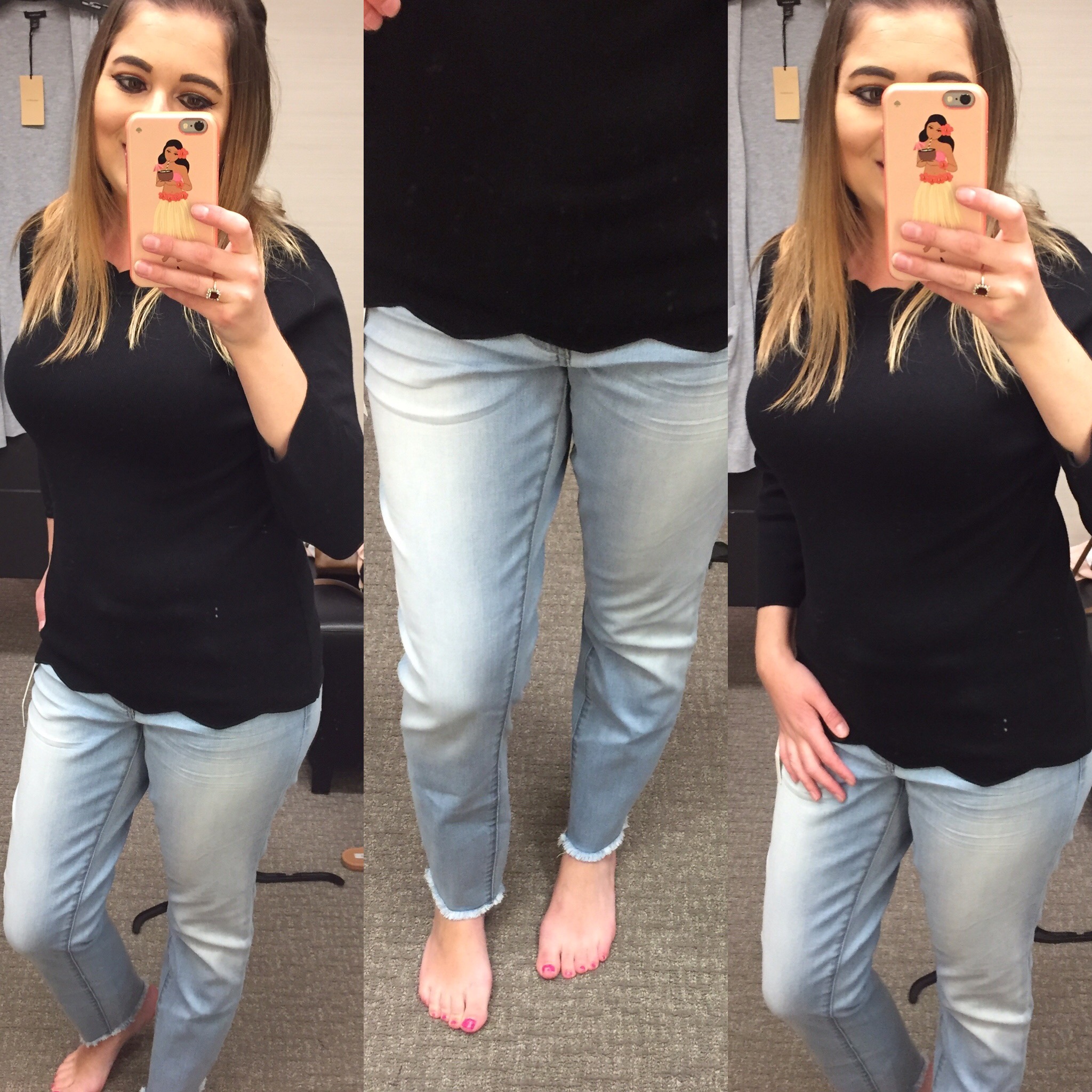 Halogen Scallop Edge Sweater – True to size. Wearing in xs. Less than $40!
Caslon Frayed Hem Jeans: I'm a sucker for a frayed hem! Less than $50 and true to size. Wearing in size 26.

SHOES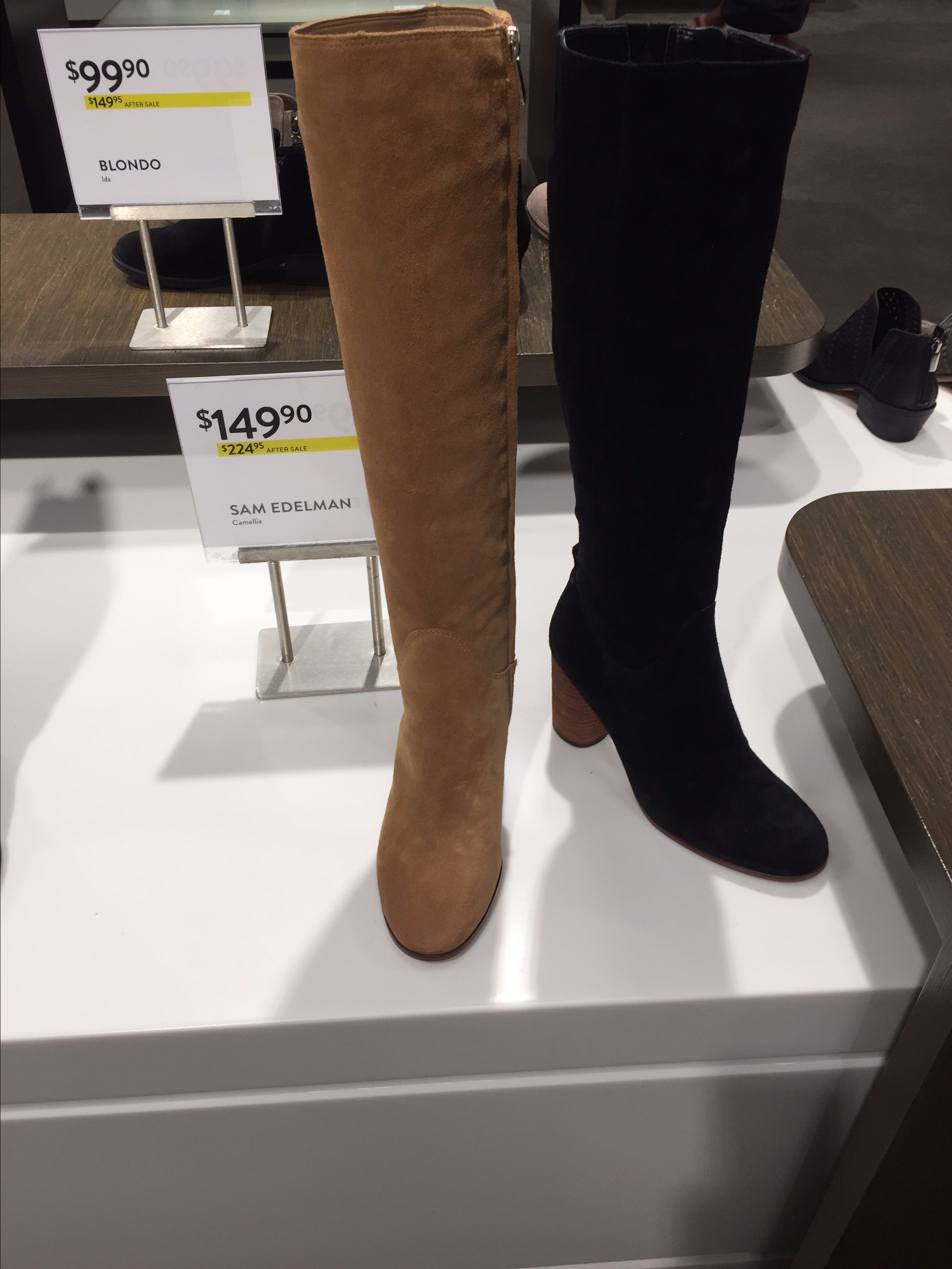 Sam Edelman Tall Boot – I am totally swooning over these Sam Edelmans! Less than $150!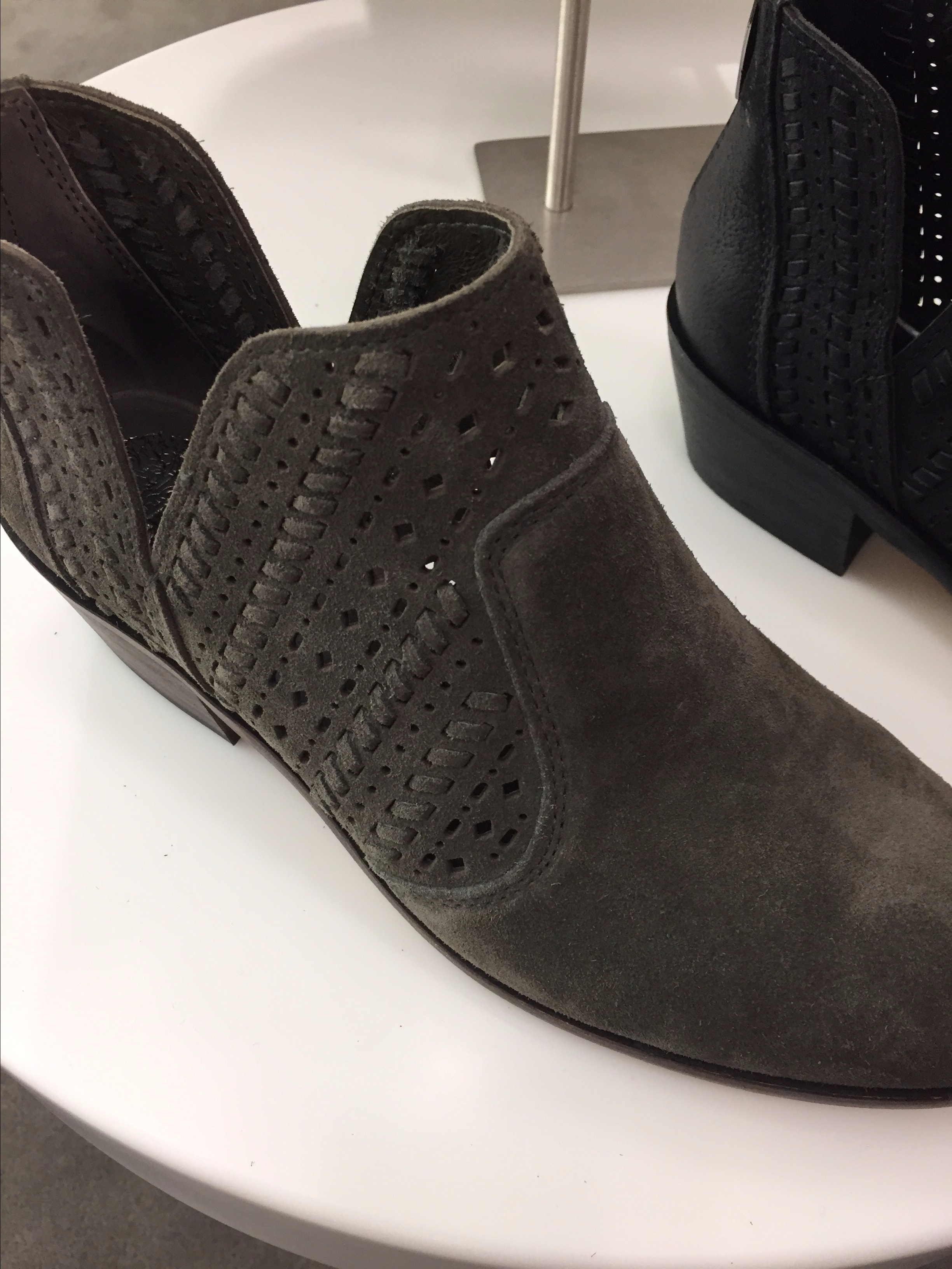 Vince Camuto Prasata Booties – I actually didn't like these as much in person as I thought I would. They were out of stock in the tan color which I think I would've liked more. Under $100, though!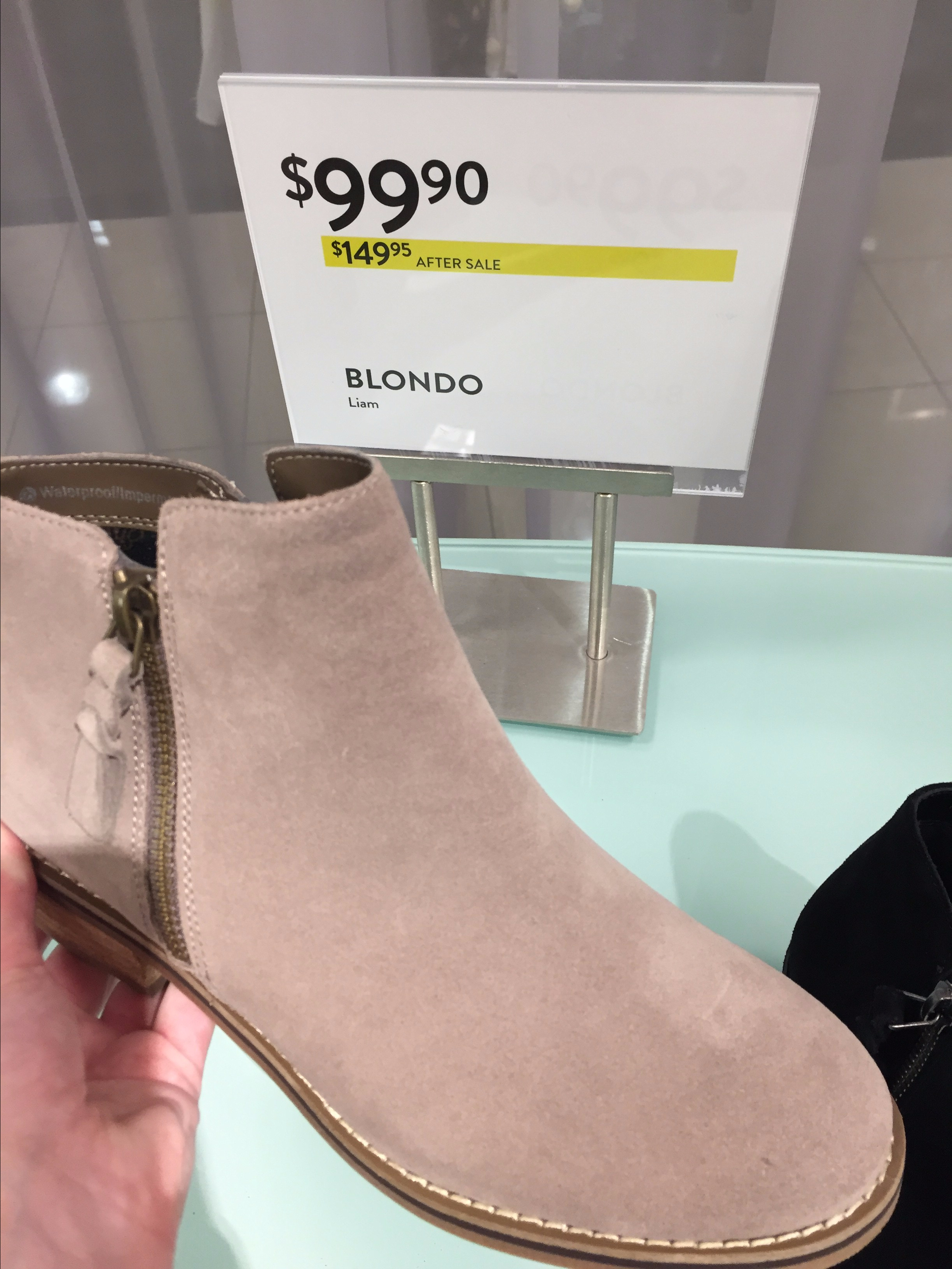 Blondo Booties – These booties claim to be WATERPROOF! Still a little pricey but to me waterproof booties are worth it. They fit true to size and I am adding them to my wishlist.

Now, for what I didn't like/didn't work for me.
LONG SWEATERS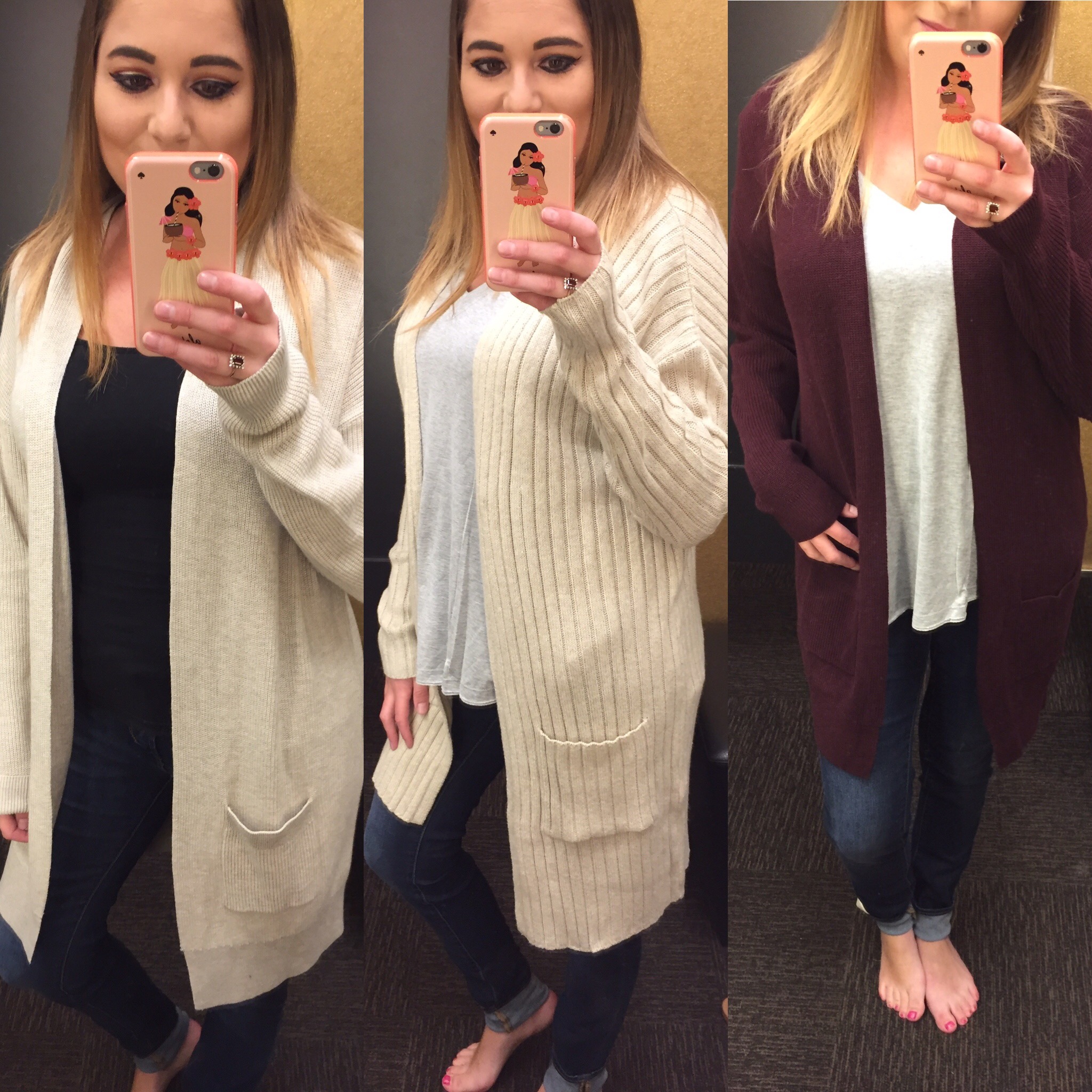 I love the long sweater trend but unforutnately I think I'm just too dang short to be able to pull this off. I also found the BP sweater (left & right) to have a lot of fuzzy pieces flying everywhere.
Left & Right: BP Lightweight Cardigan – Runs big. Size down at least one. Wearing in size xs. On sale for $31.90.
Middle: BP Rib Knit Cardigan – Also runs big. Wearing here in xs. On sale for $31.90.
Gray T-Shirt:  – Lush Raw Edge Side Slit T- Shirt – Fit true to size. Wearing in xs. On sale for less than $16!

MY PURCHASES
Since I already bought a lot online, I decided to only purchase two things. Here's my favorites that came home with me.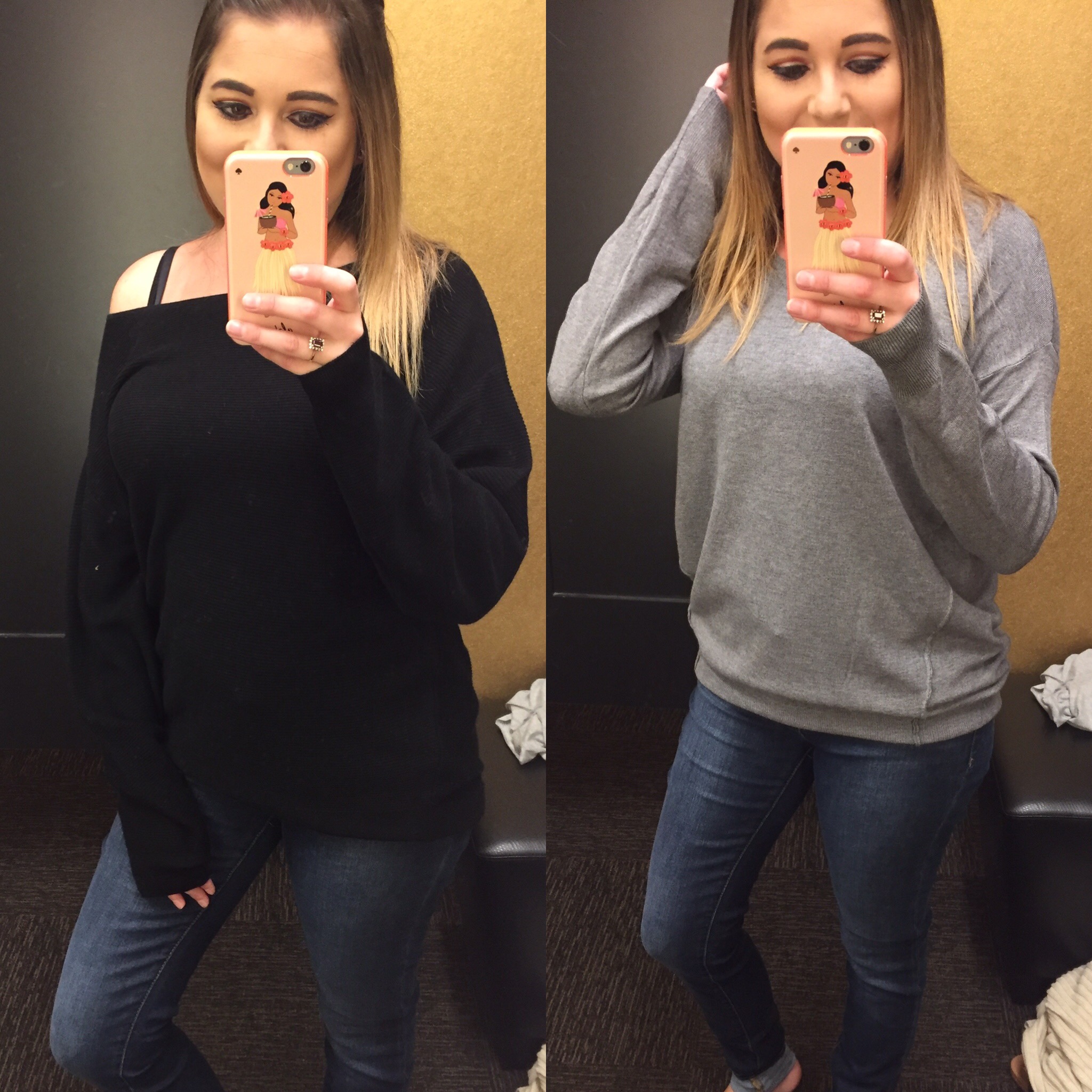 Left: BP Boatneck Pullover
Right: Dreamers Tunic Sweater
And that concludes my Nordstrom trip! For all things #NSALE, be sure to follow my facebook page! What is everyone else buying this sale?