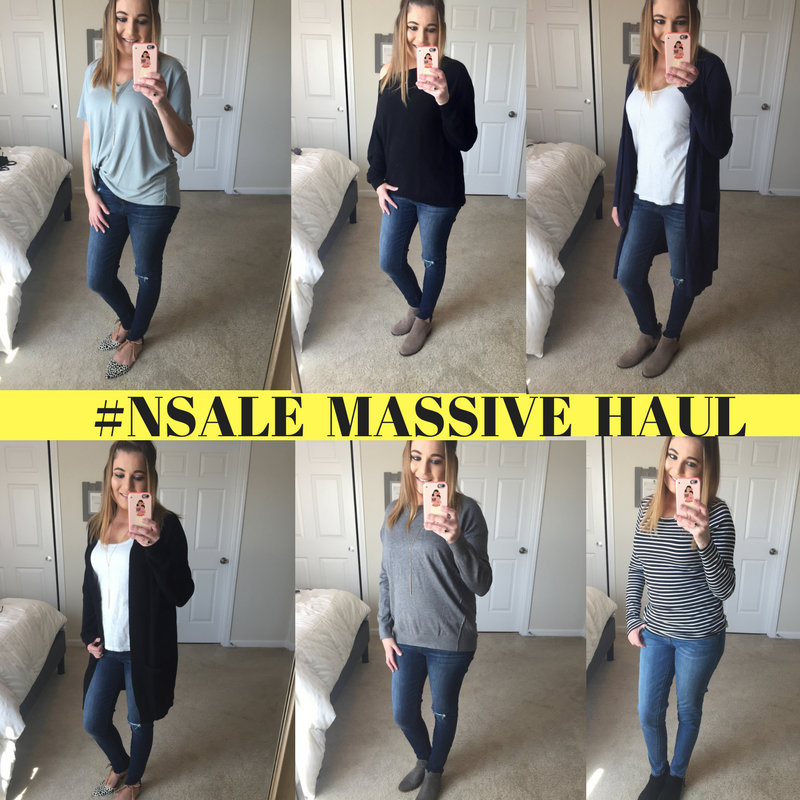 I'm a little late to the game but, I finally took pictures of all my favorites that I purchased from the #NSALE. Unfortunately, a lot are sold out but they seem to be coming in and out of stock so, if you see something you like, keep checking back. This post is a little long so buckle up! 
This post contains affiliate links, for more information please visit my disclaimer.

HALOGEN SWEATER/ JEANS/ BOOTS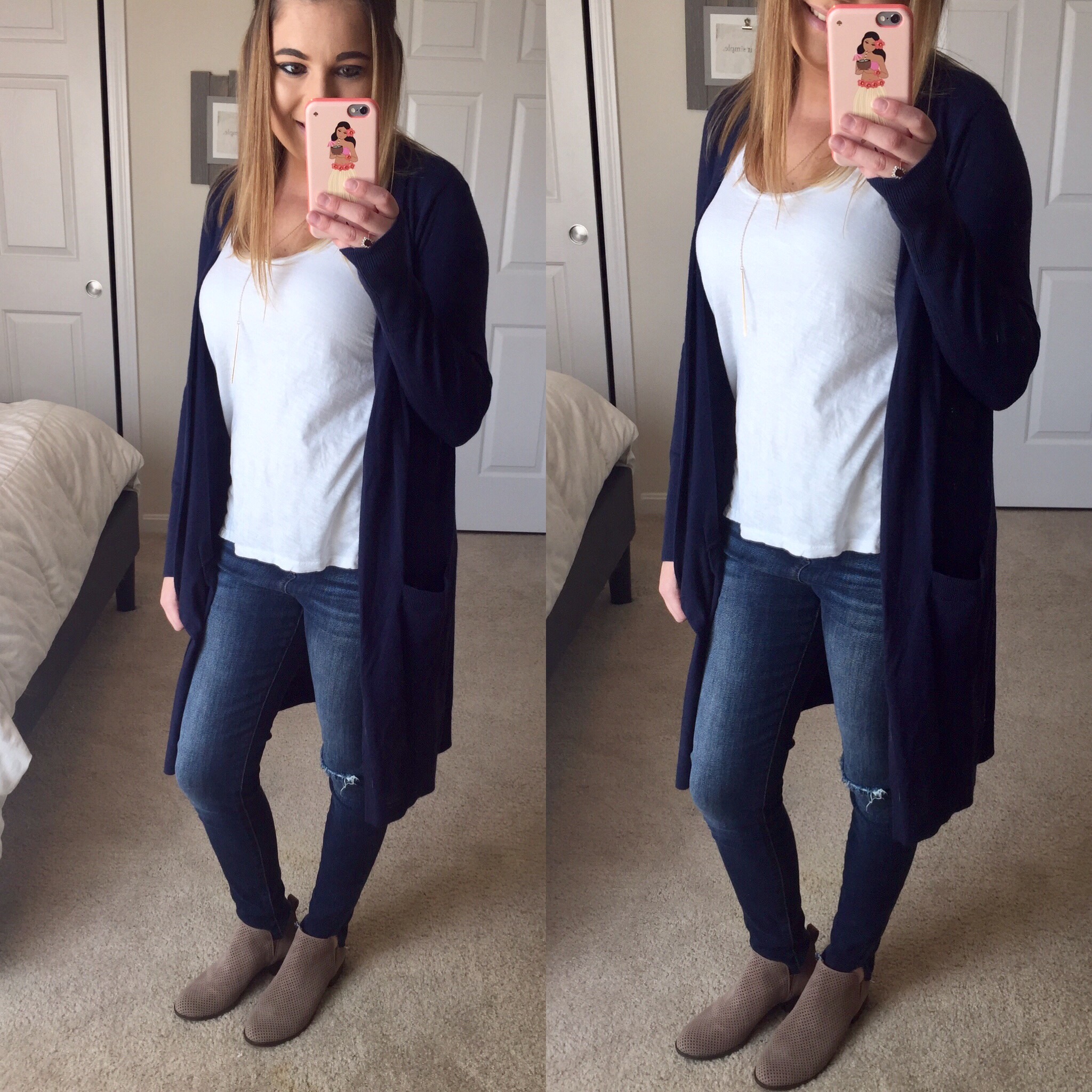 [Sweater, Booties, Tank, Jeans, Necklace]
This sweater is a little long for me but I like it! I'm wearing the sweater here in size xs (xsp would probably work better) in the navy color. If you don't mind that the sweater is backordered, you can order it and it will be delivered just in time for the colder weather. Size up one size in the jeans. Booties are true to size.

BURGUNDY CONVERSE AND HALOGEN TEE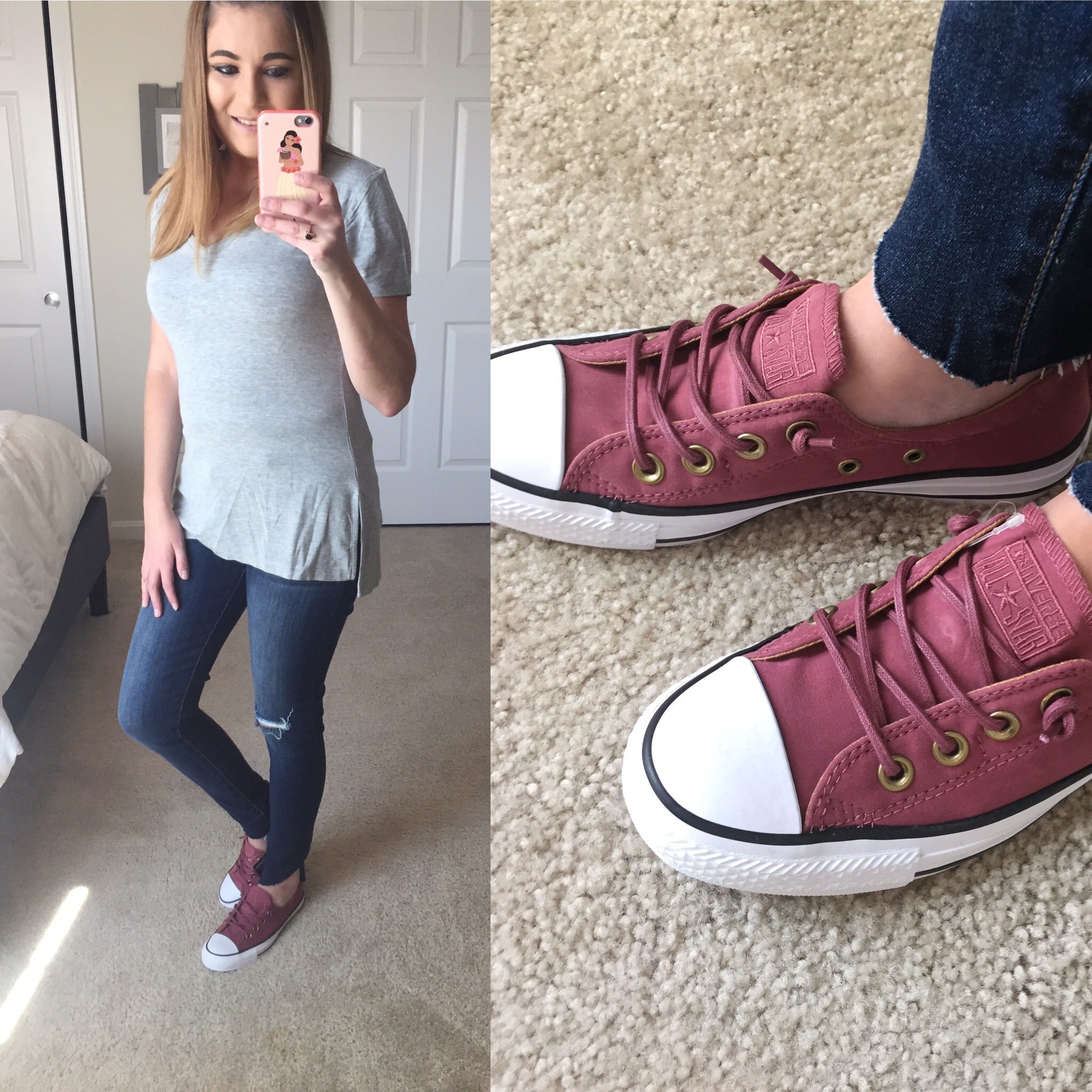 [V-Neck Tee, Converse, Jeans]
Is there anyone out there who doesn't actually like chuck taylors? I would like to believe that we live in a World where those people don't exist. I, for one, love chucks and know these are going to be awesome for fall! Plus, this t-shirt is seriously the softest I have ever worn! Both run true to size.

BP SWEATERS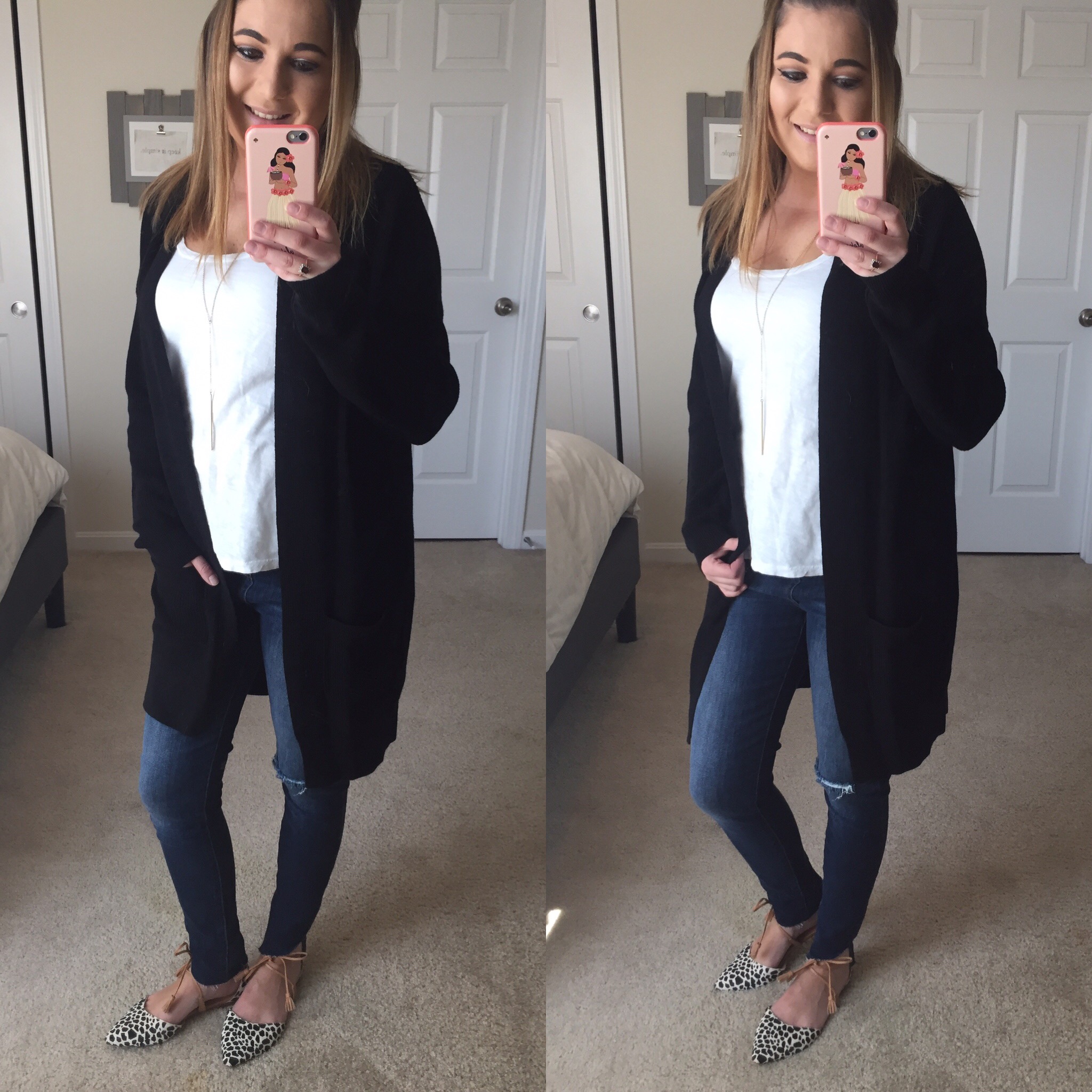 [Cardigan, Flats, Tank, Necklace, Jeans]
Wearing the cardigan in size XS and it fits well. It's a perfect length for me even though I'm a shortie at 5'0″ tall. The flats are incredibly comfortable and run true to size. The flats are also available here in a couple other colors. Size up one in the jeans.

This sweater is definitely one of my favorite purchases from this years #NSALE. I love that it can be worn off the shoulder or as a regular sweater. Sweater is true to size but size up in the jeans.

STRIPED TOP AND WIT & WISDOM AB-SOLUTION JEANS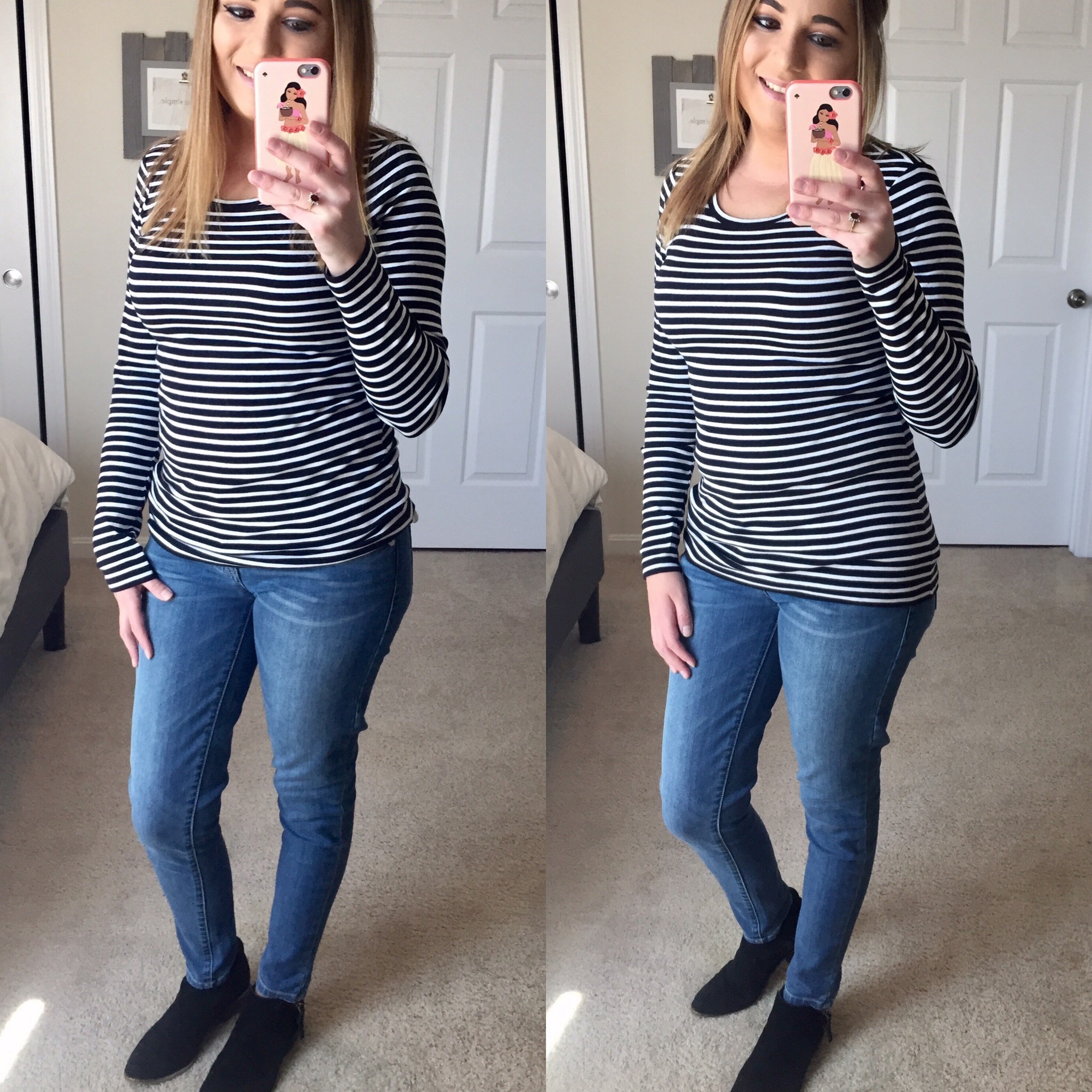 [Wit & Wisdom Jeans, Top, Booties]
I've spent my whole life thinking you need to actually work out to get abs. Silly, Diana, all you need is a pair of Wit & Wisdom's ab-solution jeans! They miraculously suck everything in with their elastic waist band and even give a little "booty lift!" These are some some seriously great jeans right here. Top is true to size (even though the site says size up) and jeans are also true to size.

MORE STRIPES
I am fanatical about stripes. This top is perfect on its own or with an olive utility vest. Top is true to size, wearing here in XS.

LUSH TOP 1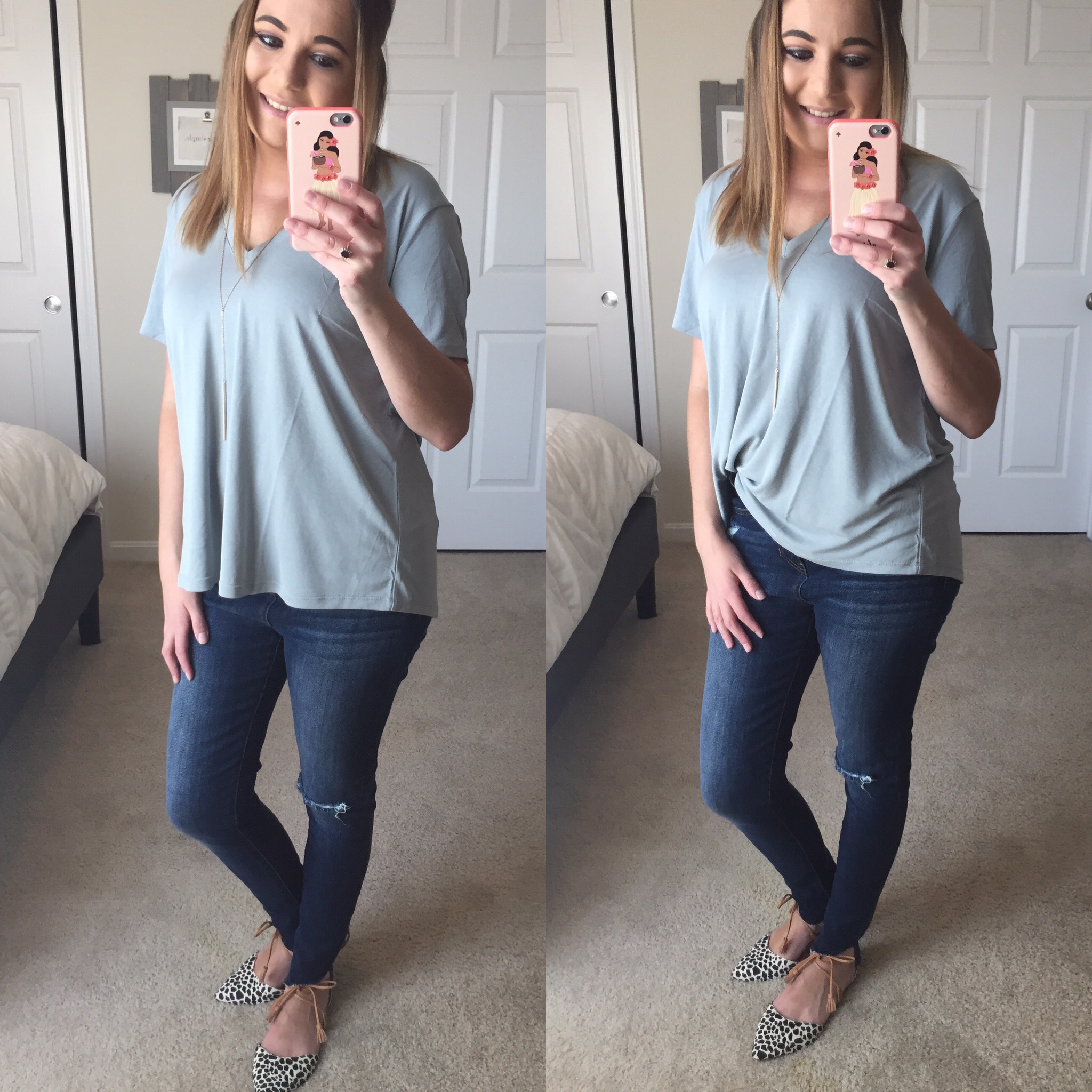 [V-Neck Tee, Flats, Necklace, Jeans]
This is another super soft and comfy shirt! Runs small so, size up. I am wearing here in a Small. 


LUSH TOP 2
I think these shoes are my new obsession and they look great with this Lush top. The top runs a little big so if you like more fitting tops, I would suggest sizing down. The flats are true to size.

LUSH TOP 3

BP PLAID TOP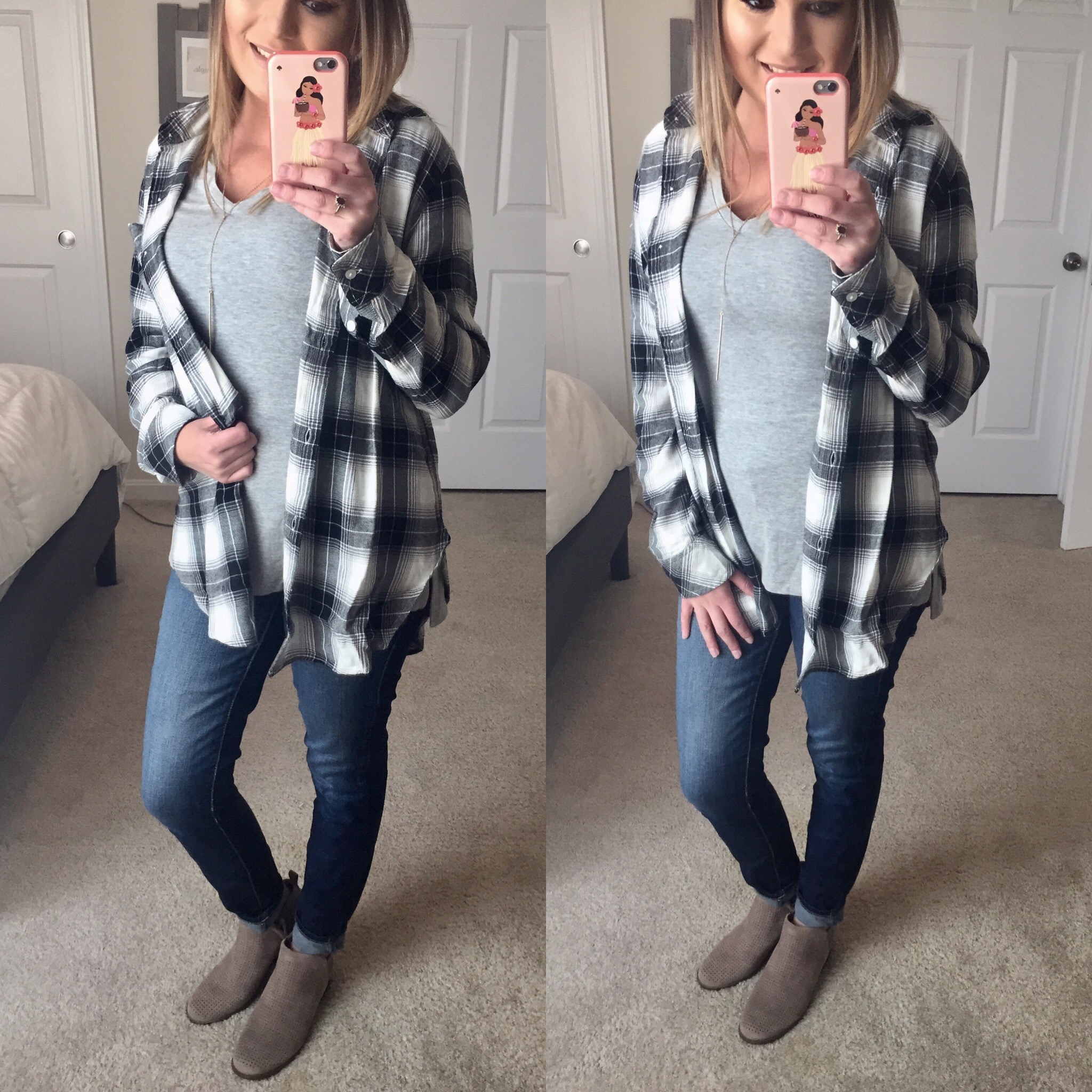 [V-Neck Tee, BP Plaid Top, Booties, Necklace, Jeans]
I absolutely love this outfit!! The plaid top runs big so, size down. I am wearing here in XS but desparately need the XXS. These TOMS booties also run big so, I suggest sizing down .5.

ARTICLES OF SOCIETY BURGUNDY JEANS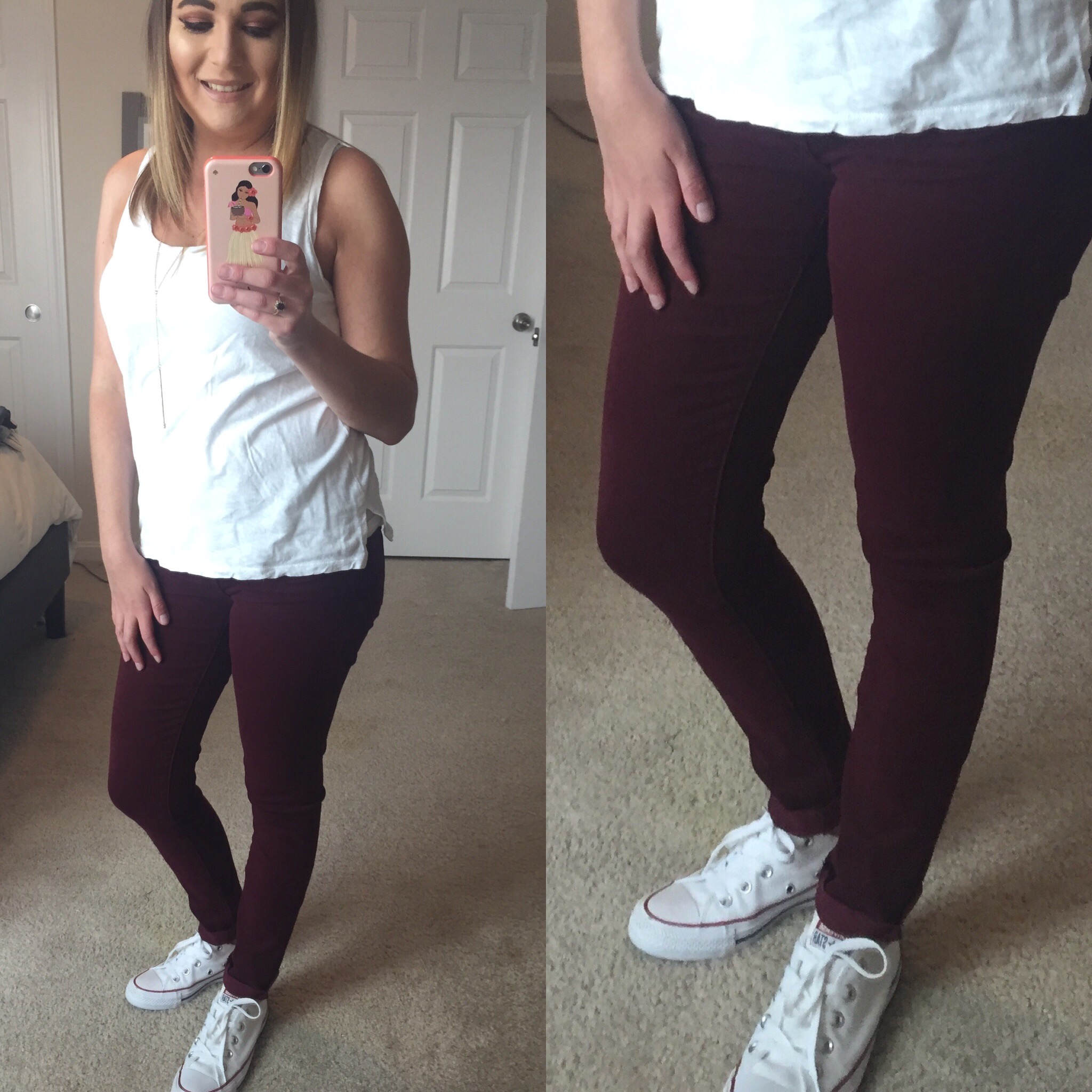 [Jeans, Tank, Necklace, Converse]
These jeans are the perfect Fall color and oh, so soft! I found them to be true to size.

BELL SLEEVE TOP
This top is all sorts of fun! I think it will be a definite "date night" go-to when the weather gets a little cooler.

SOFTEST SWEATER ON THE PLANET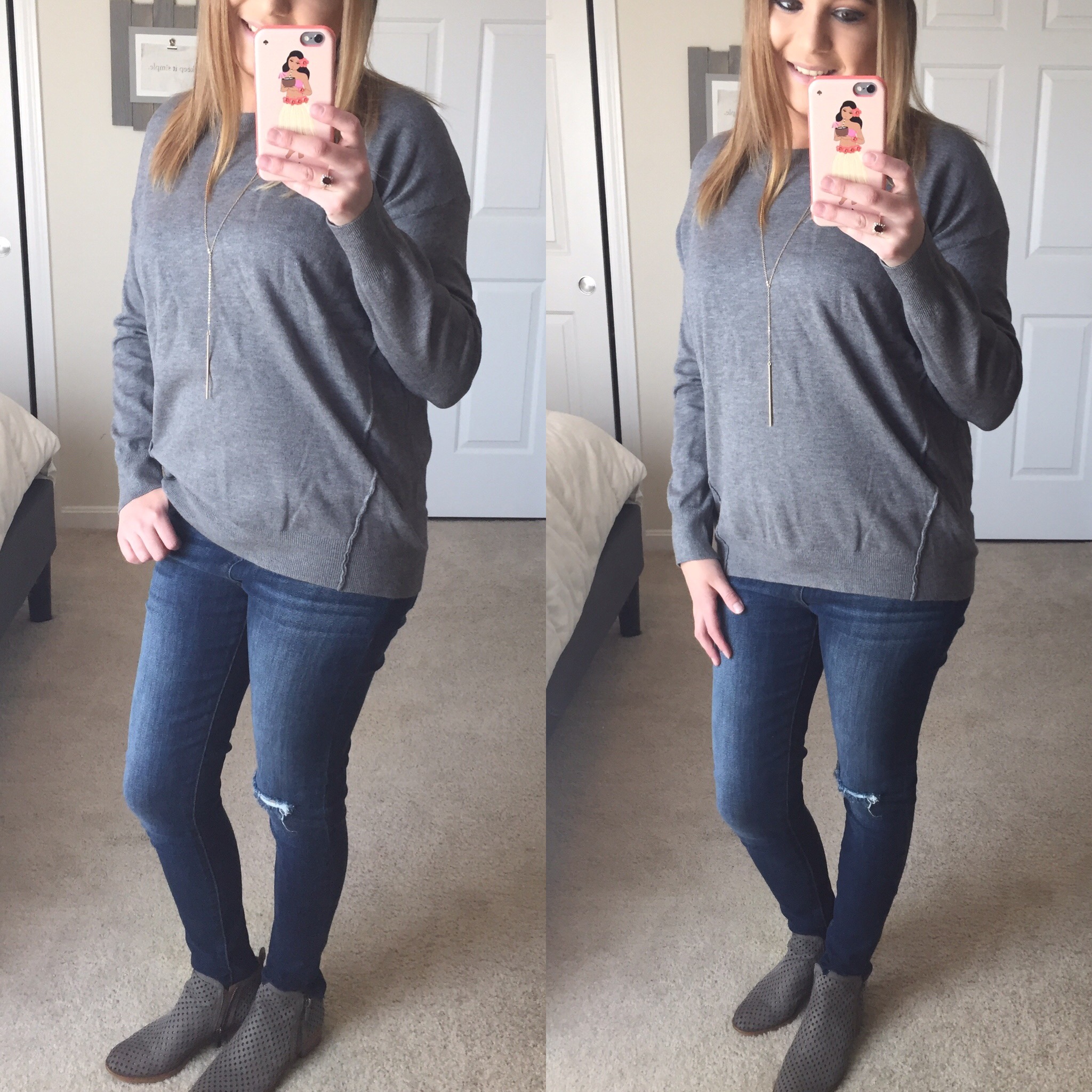 [Sweater, Necklace, Jeans, Booties]
This sweater is legitimately the softest thing I have ever put on my body. For less than $25, this is a must have! Runs true to size.

CHELSEA 28 RUFFLE BACK CARDIGAN
The back ruffle detail on this cardigan is the cutest! I found it to fit true to size. The booties run big so, I suggest sizing down at least .5.

SOLE SOCIETY TOTE BAG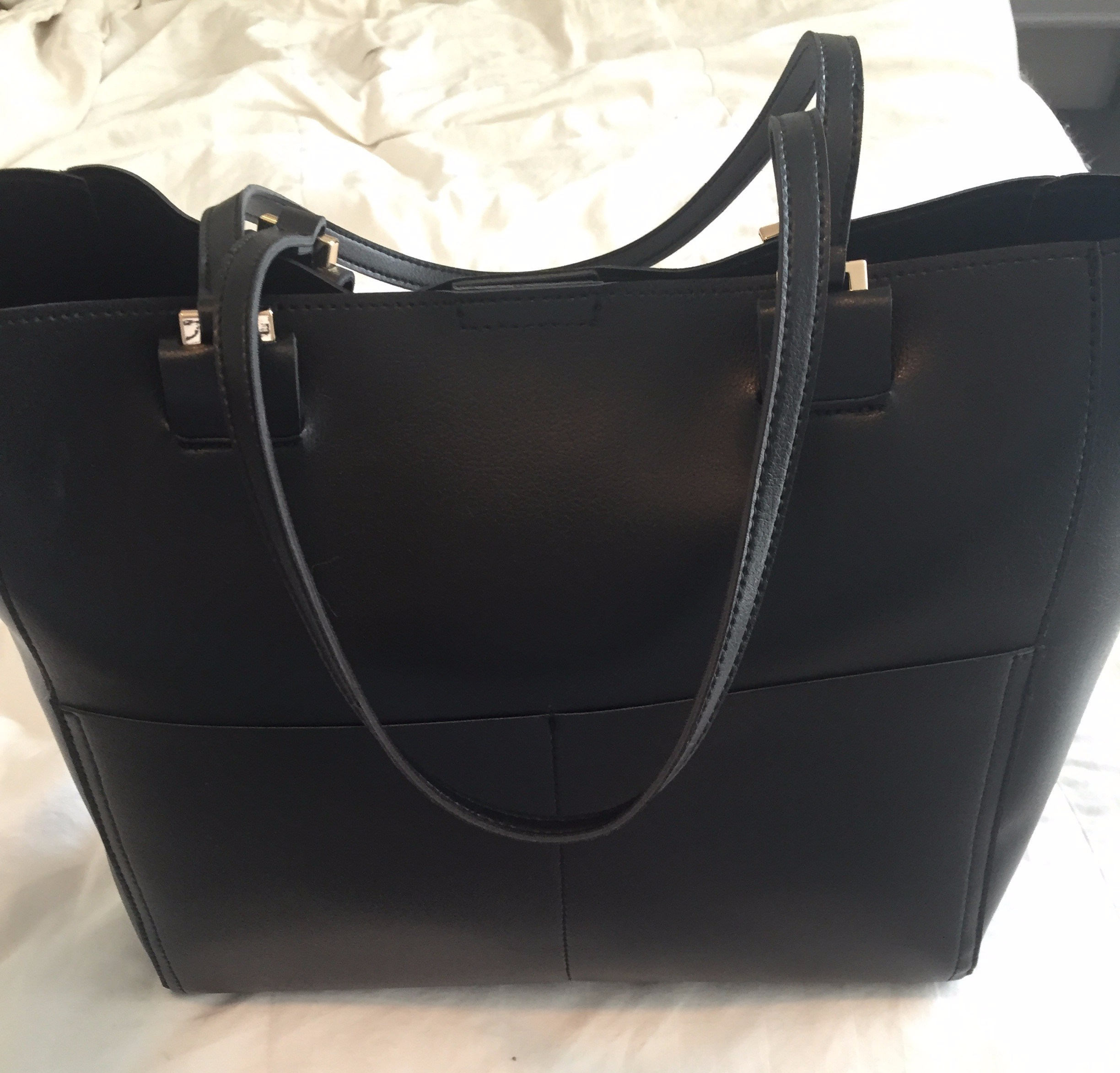 [Tote Bag]
I am obssesed with this bag and have been carrying it everywhere I go. It's a perfect size without looking too large and it's under $40! It's also available in a pretty burgundy color.
PHEW! Is anyone still here? Congrats if you made it all the way through this post! What did everyone else get from the #NSALE that they're loving?
p.s. For more sales and deals, check out my facebook page!