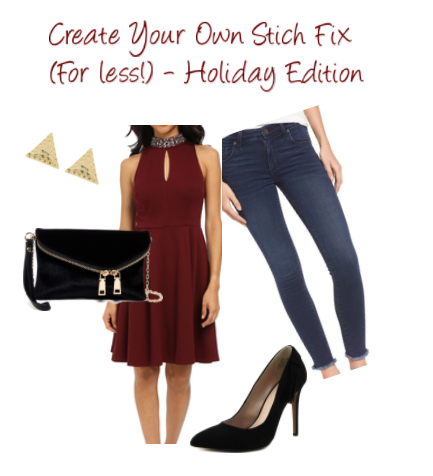 I forgot to do one of these last month but I'm back again with a holiday edition! As you may know, I love Stitch Fix but feel their pricing can be more affordable. So, each month (or every other month,) I find 5 items to create a "fix" with all Stitch Fix brands at lower prices. If you've missed my previous "create your own stitch fix" posts, you can read the latest one here.
This post contains affiliate links, for more information please read my disclaimer.

First up, is a more casual look with a bit of holiday flair! Pair the Honey Punch sweatshirt with the Kut from the Kloth jeans and Dolce Vita booties. Then add a touch of class with the Gorjana earrings and Street Level purse and your holiday look's complete!
Honey Punch Sweatshirt  – $29.99
Kut from the Kloth Jeans – $52.90
Dolce Vita Booties – $44.99
Gorjana Earrings – $18.97
Street Level Bag – $26.99
TOTAL: $173.84

This next "fix" is a bit dressier. If you have an upcoming holiday party, either of these looks would work perfectly. You can pair the Kut from the Kloth dress with the Street Level velvet clutch and Nine West heels. If you're not in the mood for a dress, the Bobeau convertible top can be worn off the shoulder or on the shoulder and paired with the Liverpool pants, Street Level clutch and Nine West heels.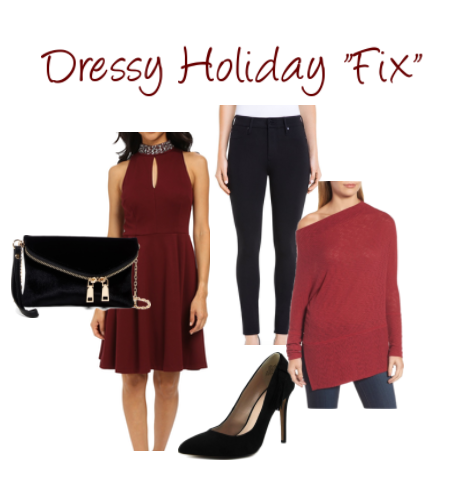 Kut from the Kloth Dress – $40.99
Urban Expressions Clutch – $19.97
Liverpool Ponte Pants – $62.99
Bobeau Convertible Top – $34.84
Nine West Heels – $26.99
TOTAL: $185.78